Screen
HOOK STRIP METALBACK
41 3/8" FROM OUTSIDE TO OUTSIDE
27 1/2" DIRECTION OF FLOW
Shipping
4 SCREENS PER BOX
WEIGHT: 48 LBS
DIMENSIONS: 43 1/2" X 28" X 4 1/2"
Panel
14 GAUGE COLD-ROLLED STEEL
11⁄4" X 1" OPENING
CLOSED CELL FOAM SEAL UNDER LEADING EDGE TO LIMIT BYPASS
EV Replacement Shaker Screens For DERRICK® FLC™ 2000 SERIES
$199 - $275
SKU: N/A
Categories: Replacement Screens
The EV Replacement Screen provides the best quality Made in U.S.A Shaker Screen in the Industry.
Our International and U.S.A. Patented Technology ensures you'll receive the most durable, best performing replacement screen for your shaker unit.
Derrick® and FLC™ are trademarks and/or registered trademarks of Derrick® Corporation. EV Oilfield Services is not affiliated with Derrick® Corporation.

The FLC™ 2000 shaker is available in both 3- and 4-panel designs. The available screening area per API RP 13C for the FLC 2000 3-panel is 20.55 square foot with the Pyramid® screen and 28.41 square foot with the Pyramid Plus™ screen. For the FLC 2000 4-panel, the available screening area per API RP 13C is 27.40 square foot with the Pyramid screen and 37.88 square foot with the Pyramid Plus screen.
Fast, easy, and reliable screen panel tensioning is provided by two pairs of Rapid-Change draw bolts on each side of each screen panel. Ramp-Lok tensioning is available for the FLC 2000.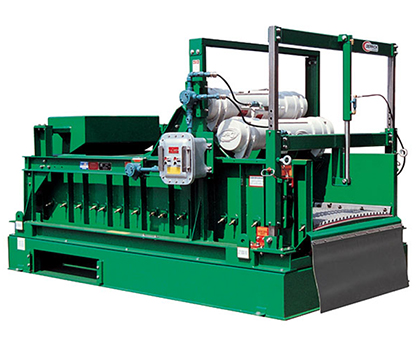 EV Replacement Shaker Screens For
DERRICK® FLC™ 2000 SERIES
Its hydraulic, adjustable while drilling (AWD) is designed for quick, easy deck adjustment and operates from -1° to +5° on the 3-panel shaker and -1° to +8° on the 4-panel model. Top, weir, and weir bypass feeders are available for both machines.
Worldwide Service & Support
To assure our customer's high performance and profitable operations, our services include 24 hour call support, field maintenance, and installation & operations training.
EV Oilfield backs up our screens with technical experience in all principal global drilling regions.