Screen
FRAME-SUPPORTED METALBACK
45 7/8" FROM SIDE TO SIDE
22 7/8" IN DIRECTION OF FLOW
Shipping
INDIVIDUALLY PACKED
WEIGHT: 36 LBS
DIMENSIONS: 46 1⁄2" X 23 1⁄2" X 2 1⁄2"
Panel
14 GAUGE COLD-ROLLED STEEL
1 1⁄4" X 1" OPENING
FLAT NITRILE RUBBER SEAL ELIMINATING METAL TO METAL CONTACT
MI-SWACO MONGOOSE™ (FLAT)
$199 - $275
SKU: N/A
Categories: Replacement Screens
The EV Mi-Swaco Mongoose Flat Replacement Screen provides the best quality Made in U.S.A Shaker Screen in the Industry.
Our International and U.S.A. Patented Technology ensures you'll receive the most durable, best performing replacement screen for your shaker unit.

The MONGOOSE PRO dynamic dual-motion shale shaker combines balanced- and progressive-elliptical motion, enabling operators to switch motion on the fly as drilling conditions change. With a simple flip of a switch, the MONGOOSE PRO shale shaker shifts from the balanced-elliptical to the progressive-elliptical motion without the need to suspend or shut down operations.
Operators can change the type of motion required to handle high volume or produce dryer cuttings as drilling conditions dictate. With the MONGOOSE PRO shale shaker, NPT lost to changing out shakers to meet drilling conditions is no longer an issue.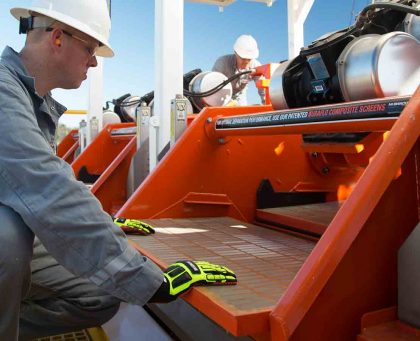 Worldwide Service & Support
To assure our customer's high performance and profitable operations, our services include 24 hour call support, field maintenance, and installation & operations training.
EV Oilfield backs up our screens with technical experience in all principal global drilling regions.